It's Official! SystemHouse33 is excited to announce the USA 2020 tour supporting metal giants Soulfly alongside Toxic Holocaust and X-Method from February 27 to March 12, 2020.
The band will promote the new album "End Of Days" after a very successful European tour with Orphaned Land in April 2019.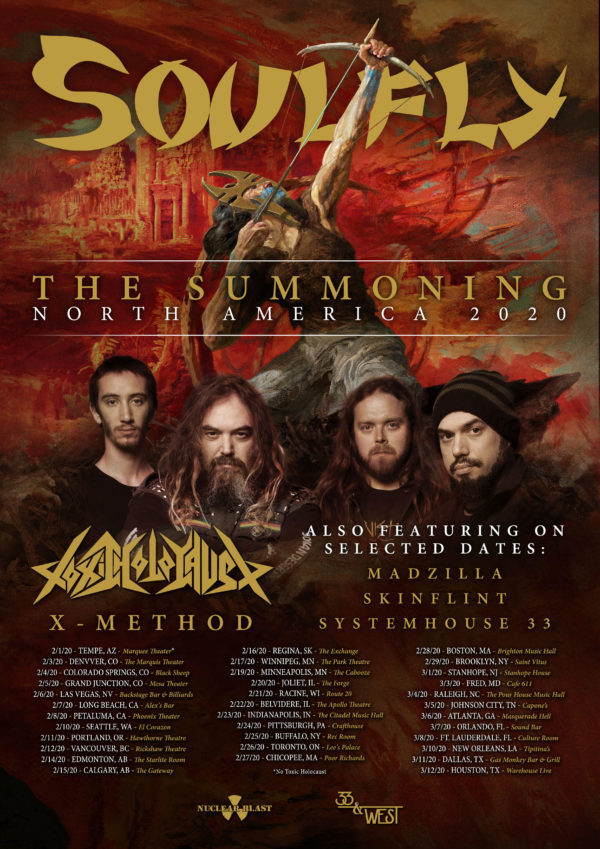 The USA tour 2020 marks the return of the Indian metallers almost 4 years after the debut USA tour in 2016 – the Metal Alliance Tour headlined by Dying Fetus and The Acacia Strain. The band is super stoked to tour with Max Cavalera; the Cavalera brothers, Soulfly & Sepultura have been a major inspiration and groove-thrash metal influence to SystemHouse33.
Soulfly's "The Summoning North America 2020" Tour will start on February 1, 2020 and SystemHouse33 will be joining in on the predominantly East Coast leg of the tour that starts in Massachusetts from February 27 all the way to Texas on March 12.
Feb. 27 — Chicopee, Mass. @ Poor Richards
Feb. 28 — Boston, Mass. @ Brighton Music Hall
Feb. 29 — Brooklyn, N.Y. @ Saint Vitus
March 01 — Stanhope, N.J. @ Stanhope House
March 02 – Brooklyn, N.Y @ Saint Vitus
March 03 — Frederick, Md. @ Cafe 611
March 04 — Raleigh, N.C. @ The Pour House Music Hall
March 05 — Johnson City, Tenn. @ Capone's
March 06 — Atlanta, Ga. @ Masquerade Hell
March 07 — Orlando, Fla. @ Sound Bar
March 08 — Ft. Lauderdale, Fla. @ Culture Room
March 10 — New Orleans, La. @ Tipitina's
March 11 — Dallas, Texas @ Gas Monkey Bar & Grill
March 12 — Houston, Texas @ Warehouse Live
Madzilla and Skinflint are the other supporting acts on select dates of the tour that will move across Canada and the United States of America.
SystemHouse33 is one of India's top touring metal acts. From a small Indian town of Nagpur, to moving base to the city of Mumbai, to taking their heavy brand of Indian metal to the world, the band has been working hard in not only creating new music but sharing it on a global platform. \m/
Come watch us on tour!