SystemHouse33.com – Following the first ever European tour with Six Feet Under and the new album launch – Regression , SystemHouse33 will be part of the line-up at Reverse Scenario | The Next Chapter that takes place on February 21, 2016 in Pune, India. This gig will also be the band's first gig in India since their return from the Xmas in Hell tour in Europe.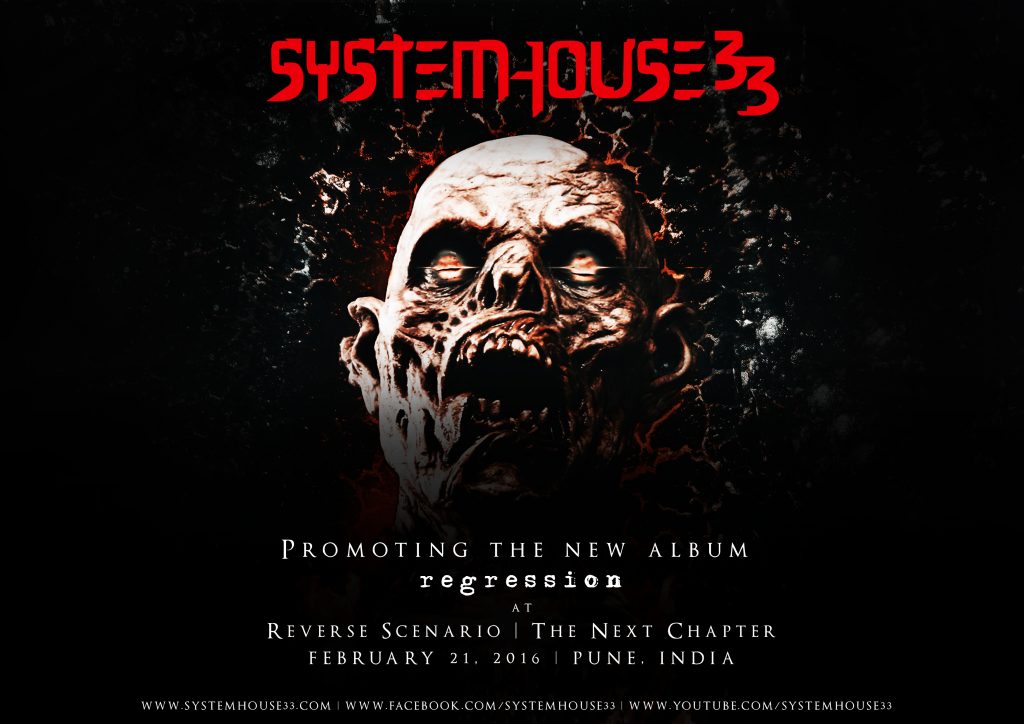 The other bands in the lineup are Bhayanak Maut, Kryptos, Albatross, Sceptre, Reptillian Death and Last Rituals.
Physical copies of Regression along with other merch will be available at the gig.
For digital copies of Regression –
Listen and Buy on Bandcamp – www.systemhouse33.bandcamp.com
Stream the album on SoundCloud – www.soundcloud.com/systemhouse33
Get it on iTunes (USA) – www. itunes.apple.com/us/album/regression
iTunes (INDIA) – www. itunes.apple.com/in/album/regression
iTunes (UK) – www. itunes.apple.com/gb/album/regression
iTunes (DE) – www.itunes.apple.com/de/album/regression
Order it on CD Baby – www.cdbaby.com/cd/systemhouse33
The first lyric video from the album Regression called Detestable Idolatry
Stay updated with SystemHouse33 on our social profiles:
Like SystemHouse33 on Facebook – www.facebook.com/systemhouse33
Follow the band on Twitter – www.twitter.com/systemhouse33
Check us out on Instagram – www.instagram.com/systemhouse33
Watch exclusive SystemHouse33 videos on our YoutTube channel – www.youtube.com/systemhouse33
About SystemHouse33:
SystemHouse33 is a groove-thrash metal band from Mumbai, India. Founded in 2003 by vocalist Samron Jude, the band has 5 albums to its credit with the new album "Regression" released early 2016. The current line-up includes Samron Jude (vocals), Leon Quadros (bass), Atish Thomas (drums), Jack Thomas (guitar)