It's Announcement Time! SystemHouse33 is part of the upcoming Double the Thrash Tour 2022 as the support for this massive tour making it's way across Europe from February till April!
The tour, headlined by thrash mettalers Nervosa and Warbringer, is one of the much highly anticipated tours of 2022. Also on select days is Warfect *.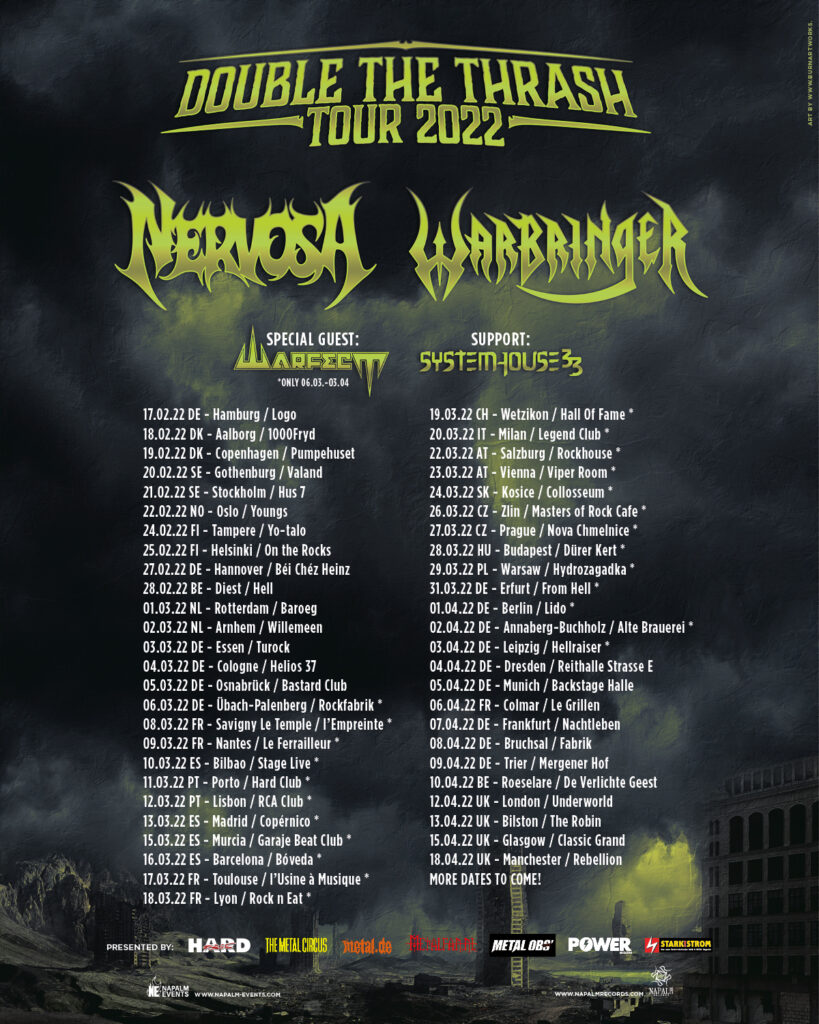 The tour routing looks great! Where are we meeting you?
17.02.22 DE – Hamburg / Logo
18.02.22 DK – Alborg / 1000Fryd
19.02.22 DK – Copenhagen / Pumpehuset
20.02.22 SE – Gothenburg / Valand
21.02.22 SE – Stockholm / Hus
7 22.02.22 NO – Oslo / Youngs
24.02.22 FI – Tamper / Yo-talo
25.02.22 FI – Helsinki / On the Rocks
27.02.22 DE – Hannover / Béi Chéz Heinz
28.02.22 BE – Diest / Hell
01.03.22 NL – Rotterdam / Baroeg
02.03.22 NL – Arnhem / Willemeen
03.03.22 DE – Oberhausen / Resonanzwerk
04.03.22 DE – Köln / Helios
37 05.03.22 DE – Osnabrück / Bastard Club *
06.03.22 DE – Übach-Palenberg / Rockfabrik *
08.03.22 FR – Savigny Le Temple / l'Empreinte *
09.03.22 FR – Nantes / Le Ferrailleur *
10.03.22 ES – Bilbao / Stage Live *
11.03.22 PT – Porto / Hard Club *
12.03.22 PT – Lisbon / RCA Club *
13.03.22 ES – Madrid / Copérnico *
15.03.22 ES – Murcia / Garaje Beat Club *
16.03.22 ES – Barcelona / Bóveda *
17.03.22 FR – Toulouse / l'Usine à Musique *
18.03.22 FR – Lyon / Rock n Eat *
19.03.22 CH – Wetzikon / Hall Of Fame *
20.03.22 IT – Milan / Legend Club *
22.03.22 AT – Salzbug / Rockhouse *
23.03.22 AT – Vienna / Viper Room *
24.03.22 SK – Kosice / Collosseum *
26.03.22 CZ – Zlin / Masters of Rock Cafe *
27.03.22 CZ – Prague / Nova Chmelnice *
28.03.22 HU – Budapest / Dürer Kert *
29.03.22 PL – Warsaw / Hydrozagadka *
31.03.22 DE – Erfurt / From Hell *
01.04.22 DE – Berlin / Lido *
02.04.22 DE – Annaberg-Bucholz / Alte Brauerei *
03.04.22 DE – Leipzig / Naumanns *
04.04.22 DE – Dresden / Chemiefabrik
05.04.22 DE – Munich / Backstage Halle
06.04.22 FR – Colmar / Le Grillen
07.04.22 DE – Frankfurt / Nachtleben
08.04.22 DE – Bruchsal / Fabrik
09.04.22 DE – Trier / Mergener Hof
12.04.22 UK – London / Underworld
13.04.22 UK – Bilston / The Robin
15.04.22 UK – Glasgow / Classic Grand
18.04.22 UK – Manchester / Rebellion
Check back for more dates TBA. \m/